Celebrity Public Nudity
When Janet Jackson's breast fell out of her skimpy top during a performance at the Super Bowl on February 1 2004, it suddenly became the most-talked-about moment of the whole show.

Performing a duet with Justin Timberlake, Jackson's breast covering was accidentally torn away to reveal a full breast and a nipple covered with elaborate jewellery. The TV network later apologised for showing it, however unintentionally.

Jackson's flash is just the latest in a long series of unplanned revelations by celebrities. Many female stars have been caught out by the camera, accidentally revealing a nipple or more when walking up the red carpet. The main problem is the flimsy outfits many celebrities wear - loose strappy numbers that don't require a bra are always a hazard.

One of the worst offenders is Paris Hilton, now better known for her illicit sex tape. Prior to that she attracted controversy through a photo that showed her exiting a car without underpants. The flash was at just the right angle to show everything. She's also been caught falling out of her barely-there tops on numerous occasions.

Britney Spears has been described as "the queen of nipple slips" due to her regular flashes. According the Nipple Slips site, Britney's boobs are the most sought after nipple pics on the internet, with a mammoth 56% of searches.

Other celebrity nipple-flashers include Christina Aguilera, Stephanie McMahon, Geri Halliwell, Jessica Simpson and Anna Kournikova. Even George Bush's daughter Jenna had a small mishap while dancing with her father in January 2001.

Accidental male celebrity nudity is a lot harder to find, of course. Men don't tend to accidentally fall out of their pants often. Indeed, the only celebrity male nudity captured in photos occurs mainly through prying paparazzi. The well known photos of Brad Pitt naked on a balcony are one of the better examples of this.

Celebrity public nudity photos have created an entire subculture within porn. As celebrities are so often held up to be perfect, intense interest surrounds them, especially when it comes to sex.

One of the better places to check out celebrity public nudity is Mr Skin. This site reviews nude scenes in films and has an archive of celeb nude photos.
Related Articles and Photos
Sorry for the boob - SMH
Janet Jackson flashes a breast at the super bowl - The Scotsman
Charlize Theron flashed me her boobs - IOL
Naked Men in Film - Naked Men News
Advertisements

Mr Skin offers a huge and comprehensive database of celebrity nude scenes and photos, complete with reviews of each scene.
You name them, Mr Skin has got them!
Click here to see your favourite celebrities naked!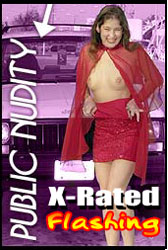 X Rated Flashing
Offering a Free Trial!!